Manava Suite Resort Tahiti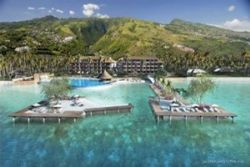 Manava Suite Resort Tahiti
The Manava Suite Resort Tahiti is a premier Papeete resort for business and leisure travelers alike. The hotel features 121 guest rooms ranging from superior rooms to multi-bedroom duplex suites and apartments. All guest rooms reflect authentic Polynesian décor and contemporary amenities with the comforts of home.
Manava Suite Resort Tahiti Activities:
Activity Desk, Snorkeling,
...

Pleasant Holidays, in business since 1959, is one of the leading travel companies serving Hawaii, Mexico, the Caribbean, Costa Rica, Continental United States, Tahiti and the South Pacific, sending more than 350,000 visitors to its destinations annually from over 260 cities nationwide.
From the design to the operation of our travel programs, our commitment is to provide you with an enjoyable and memorable journey. Our dedicated, knowledgeable, and well-trained team has perfected thi
...
from Los Angeles - Tues, Thur, Fri, Sun